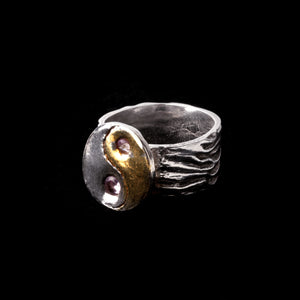 I made this lovely Yin and Yang ring using a kelp pattern from real dried kelp on the ring shank. The Yin Yang medallion was made using a diagram, which I drew onto something called scratch foam and impressed onto the moist Precious metal silver clay. I cut out the medallion, and added the amethyst lab gems which could be fired in the kiln. I dried and refined it and then affixed it onto the ring shank using syringe clay.
After firing in the kiln for 2 hours I burnished part of the pattern with 24K Gold foil and painted on a slight amount of patina.
The ring is smooth and comfortable on my ring finger. It is elegant and unusual. Since it is Yin and Yang the wish is that it would provide Balance to the wearer.
Dimensions: Size 6