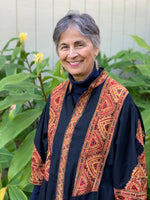 Himani Natu
Himani Silver was founded in Santa Cruz California by Himani Natu. Starting off as a hobby, Himani initially gave away pieces of her handmade silver jewelry as gifts for family and friends. Eventually, the pieces became so popular, she began to feature them in local Santa Cruz galleries.

Himani has started including new techniques and materials into her work – which she learned about through Cabrillo College's small metals department – including copper, enamel and wire wrap.

As a native of India, Himani's cultural upbringing adds a unique aesthetic to her jewelry. Himani recently retired after working as a psychiatrist for Santa Cruz County Mental Health for almost 40 years.