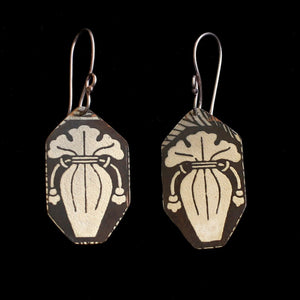 These earrings were made in a class with Carol Webb. She taught us how to fuse pure silver to copper, then put it through a rolling mill after annealing it over and over again to make the piece longer and wider.
In class we selected patterns, printed them on special paper and burnished them on the fused pure silver and copper pieces Carol had already prepared for us. The paper was peeled off leaving the design on the metal. The metal was floated in an acid bath. After a suitable etch was achieved the metal was placed in a neutralizing bath and then scrubbed with solvent.
The pattern was cut out using a jeweler's saw, filed, sanded and made smooth. Carol had us dip the finished pieces into patina and then neutralize them to give them the rich pure silver and copper shining through appearance. I liked the design so much I have etched it onto Sterling silver as well.
This was a wonderful class. I couldn't get into the next one. Sadly we lost Carol a few years later. 
Dimensions : 1 and 1/4 inch long X almost 1 inch at the widest part. Sterling silver ear wires. These can be switched to comfortable sterling silver clip ons at an additional charge.