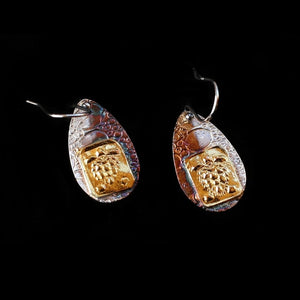 Turtles are such determined and endearing creatures.
In Hindu mythology the world is thought to rest on the back of a turtle. This is also found in North American Indigenous people's creation stories.
These earrings are turtles relaxing on a background of bubbles. I have a bubble texture from having etched bubbles in silver as well as copper. The turtles are from stamps. I think the teardrop shape is a good back drop. I created the back ground first then put the turtles on top and fused them to the back ground. After the clay earrings dried they were refined with a flexible sanding pad and put into the kiln to be fired.
After the pure 999 silver earrings emerged, the turtles were burnished with 24K Gold Foil to fuse silver and gold a process called Keum Boo. The turtles look so sweet on their bed of bubbles. I painted a little patina on to get some blues and greens.
Dimensions : 1 and 1/4 inches X 3/4 inches. Sterling silver ear wires. These can be switched to comfortable sterling silver clip ons for an additional charge.
PLEASE NOTE: These earrings have been purchased by a happy customer. However I can create a custom pair. Since I start from scratch each time they may look slightly different from the original