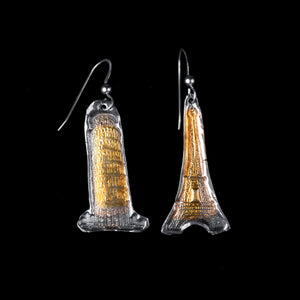 These are whimsical earrings, one is the Eiffel Tower, the other, the leaning Tower of Pisa. I had rubber stamps for both so decided to put them together. They are made of pure 999 silver starting out as Precious metal silver clay. After being kiln fired, I burnished them with 24K Gold foil and painted them with patina for accent.
They are playful earrings for the young at heart.
Dimensions: 1 and 1/4 long and about 1/2 inch wide at the widest part. Sterling silver ear wires. The ear wires can be switched to comfortable sterling silver clip ons for an additional charge.
PLEASE NOTE: These earrings sold recently. I can create a new CUSTOM ORDER for you if you wish to purchase them.