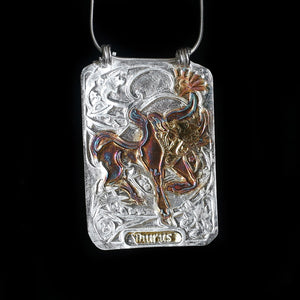 Signs of the Zodiac are found in the West as well as in the East. They were named after constellations the sun annually moved through, while crossing the sky. Astrological signs are supposed to give information about a person's character as well as the person's future.
I find them fun to read about. Many people are much more serious about astrology. I have a Capricorn sign which I enjoy wearing, so I thought other people might enjoy wearing their sign. I found Zodiac stamps and created this Taurus pendant using a stamp impressed into silver clay. After kiln firing it I burnished 24K Gold foil onto parts of the pendant using a process called Keum Boo. I added patina for contrast.
This is a statement piece for a person whose Birthday falls between April 20-May 20.
Dimensions : 1 and 1/2 inches X almost 2 and 1/2 inches. Sterling silver snake chain 20 inches.