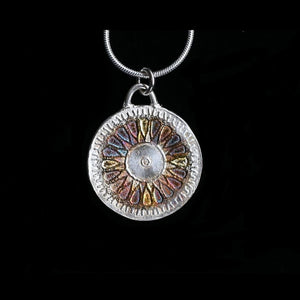 This pendant was created as a custom order. The recipient wanted a simple pendant with the appearance of the four directions of the compass. I used a texture which looks like a sunflower with petals. After the pieces was fired in the kiln the petal positions of North, South, East, West were burnished with 24K Gold Foil to fuse the 999 pure silver with gold. This process is called Keum Boo.
The remaining petals were painted with patina to give a coppery color with a few blues and greens. The rest of the pendant was left shiny silver.
Dimensions : 1 inch in diameter. Sterling silver snake chain 16 inches.
PLEASE NOTE : This pendant has sold. However I can create another one as a custom order. Since I make all pieces from scratch it may look slightly different from this one as far as positioning of the gold and patina.