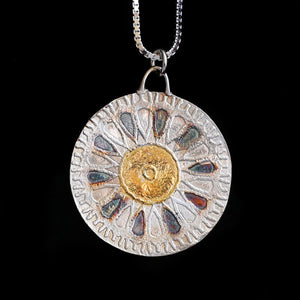 This is one of my favorite patterns. I have used it a variety of different ways, sometimes with stone in the center, ruby, lapis etc. This time I burnished 24K Gold foil in the center. This process in which the pure silver and gold bond, is called Keum Boo. I painted patina in the petals. 
This is pure 999 silver and gold which gives it an ancient mixed metal appearance like a wheel in an old painting or sculpture. This will dress up any outfit.
Dimensions : Almost 1 and 1/4 inch diameter. 18 " sterling silver box chain
PLEASE NOTE: This pendant has sold but I can create a CUSTOM ORDER for you if you wish to purchase this.