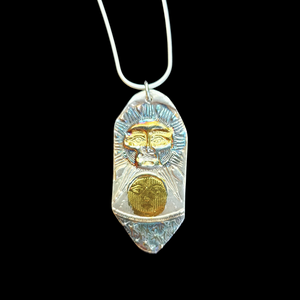 I have a beautiful stamp of the Sun, Moon and Stars which I impressed into moist silver clay. The excess clay was cut away and the image was dried. After drying the edges were smoothed and refined with a flexible sanding pad. The finished piece was fired in a kiln at 1645 degrees for 2 hours. What emerged was pure 999 silver. I burnished 24K Gold foil on the eyes of the sun and the moon face. This causes the Gold to fuse with the pure silver, a technique called Keum Boo. Patina was painted on the rays of the sun and the stars for contrast. 
This is a stunning  piece invoking the light which comes to us from the firmament.
Dimensions : 1 and 3/4 inches X 3/4 inches. Sterling silver snake chain.
PLEASE NOTE: This piece has sold but I can make you a CUSTOM ORDER if you wish to purchase it.