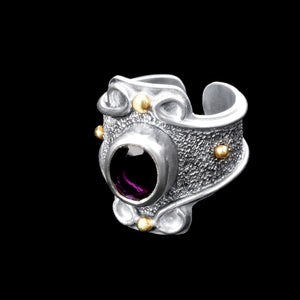 This ring is sterling silver with a deep colored Amethyst stone and gold balls for accent. There is silver wire framing the ring band. There is a hammer texture on the surface which gives it a really interesting look.
I made this in a class with Albion Smith, who is a master craftsman and wonderful teacher.
 Dimensions: Widest part of the band is 1 inch. The band is almost 3 inches. The ring is open backed so can be adjusted to most any finger.