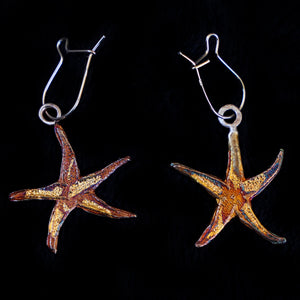 These lovely starfish earrings were formed on a starfish pattern pressed into Precious metal silver clay. The hardest part was to carefully cut the starfish shape out of the clay without stretching the clay and retaining the delicate shape. The dried clay was smoothed with flexible sanding pads.
After firing in the kiln the arms of the starfish were carefully burnished with 24K Gold foil which had to be cut to fit. Patina was applied for accent.
These are lovely, light delicate and airy with an ocean feel. 
They make you think of summer whatever the season.
Dimensions:1 and 1/4 inch X 3/4 inch
Sterling silver ear wires. These can be switched to comfortable sterling silver clip ons for an additional charge.
PLEASE NOTE: This particular pair of earrings has been purchased by a happy customer but they can be made again as a custom order. They will be slightly different in that the gold foil and Patina application will not be identical since I make each piece from scratch.