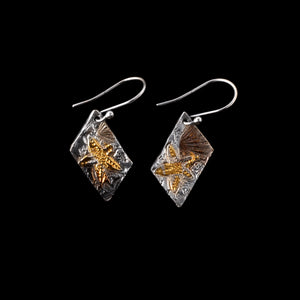 These are very sweet ocean earrings with a focus on the Starfish. I have always lived by the ocean, so I like ocean themes. In Mumbai our apartment was facing the ocean.

After firing the earrings in the kiln, I burnished the Starfish with 24K gold foil, a process called Keum boo and painted parts of the earrings with patina to get the lovely copper and blue colors.
Dimensions: 1 inch X 1/2 inch. Sterling silver ear wires. These can be switched to comfortable sterling silver clip ons for an additional charge.
PLEASE NOTE: These earrings have been purchased by a happy customer. However I can make a custom pair. They will be slightly different since I make everything from scratch.