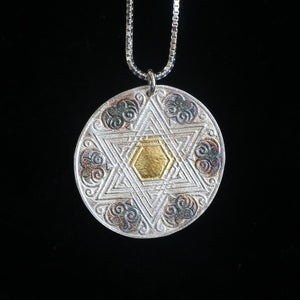 When my friend Elaine died, her granddaughters gave me a brass medallion she had in her Judaica collection. Elaine and I used to make jewelry together. I made a mold of the medallion and decided to recreate it in silver. I pressed silver clay into the mold. When dry, I refined the edges with a flexible sanding pad.
When it came out of the kiln,it was pure 999 silver. I burnished the center of the star with 24K Gold foil to fuse it to the silver, a process called Keum Boo. I painted patina on the area between the points of the star to get the striking blues, copper and purple colors I love. 
I learned that the Star of David was adopted by the Jewish community of Prague as it's official symbol. Other Jewish communities followed in the 17th century. The six pointed star became a general sign of Judaism.
Dimensions : Diameter 1 and 1/4 inches. Sterling silver box chain 18 inches.