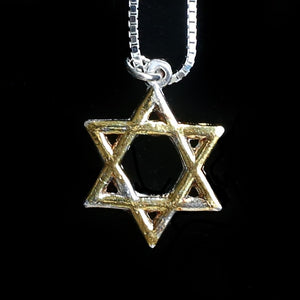 I made a mold of a brass Star of David. I pressed silver clay into the mold to get the impression. With a sharp knife I removed the clay in between the six points of the star as well as the center. This was tricky, so I was pleased to accomplish it without any tears in the clay. After the clay dried I used a small piece of flexible sanding pad to refine the star. I added a coil at one of the star points for a baile.
A pure 999 star came out of the kiln. I carefully burnished 24K gold foil strips on the Star to fuse with the silver, a process called Keum Boo.
The result was a small precious well defined Star with a shimmer of gold.
The Star of David was adopted by Jewish communities starting in Prague and spreading to other communities in the 17th century.
Dimensions : 3/4" X 3/4". Sterling silver box chain 16 inches.