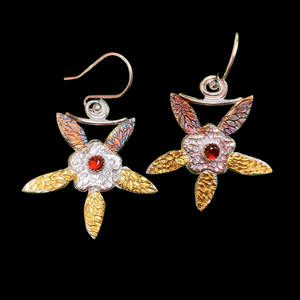 I started out with a floral center. I used one of my favorite chrysanthemum petal textures. I created 5 petals for each flower with the same texture. The petals were attached using silver clay slip after drying, filing and refining them. A pure silver bezel was attached on the center of the flower. I connect two of the petals with a decorative arch. After firing the earrings in the kiln for 2 hours I burnished 3 of the petals with 24K Gold foil a process called Keum Boo. I painted the other two petals with patina. The garnets were placed into the bezel and the bezel was closed around the stone. 
These are really lovely festive earrings which are very stylish.
Dimensions : 1 and 1/4 inch end to end. Sterling silver ear wires. These can be changed to comfortable sterling silver clip ons for an additional charge.