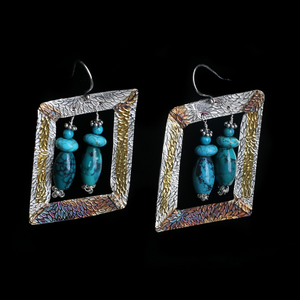 I have made variations of this pair of earrings many times. Each time they sell, I make the next pair slightly differently. This time I used my favorite Chrysanthemum petal texture on the " Window" frame. The frame is made starting out with pure 999 silver clay. After firing in a 1645 degree F kiln I burnished the long sides with 24K Gold foil, a technique called Keum Boo. Patina was painted on the lower ledge of the " Window ". I used 3 different styles of Turquoise beads to make the dangles inside the " Window".
These stunning earrings are show stoppers and very stylish. They are a statement piece.
Dimensions : Almost 2 inches X 1 and 1/2 inches. Sterling silver ear wires. These can be switched to comfortable sterling silver clip ons for an additional cost.