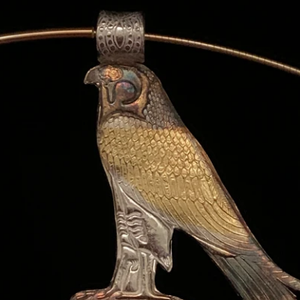 The hawk is a very regal bird celebrated over time in many mythologies including ancient Egypt.
The pendant is made of pure 999 silver burnished with 24K gold foil and shows a hawk on a pedestal. It reminds me of the falcons raised by royal families all over the world in the past and present.
It is beautifully positioned on a gold neck wire as a choker pendant. Stunning for evening wear with a simple black dress.
This was a commissioned piece.
It could be repeated since I have the stamp but it would look somewhat different than the original since I might alter the positioning of the gold, patina or put a stone on it.
Dimensions: Almost 2 inches X 1 and 3/4 inches
Neck wire 17 inches sterling silver gold plated diamond cut with hidden sliding clasp.
PLEASE NOTE
This specific Pendant sold. However, I can create a similar one if you would like to place a custom order. It will look slightly different from this one since I start from scratch for each piece I make. For instance the gold and patina may be in a different location.