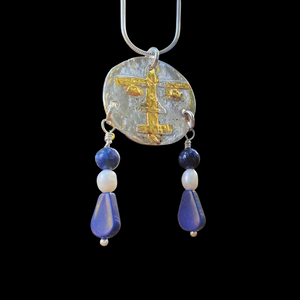 This is a face pendant with a simple background filled in with eyes, nose, eyebrows and mouth. I was playing around with facial expressions and this is what turned up. Over time I have made sun, moon, star faces. This was a time to make something different.
It was made using Precious metal silver clay. After firing it, I burnished it with 24k gold, then painted it with patina.
I attached Lapis and pearl beads which look like earrings on the Face.
Dimensions: 3/4 inch diameter. Sterling silver snake chain 16 inches