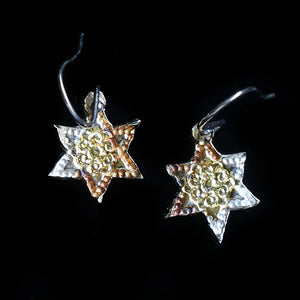 These are little star earrings which have a floral center. They are shaped like the Star of David. I made them as Hanukkah gifts in December for a show I was participating in. They are sweet and could be worn for dress up or as everyday earrings.
They were made with silver clay kiln fired to 999 pure silver and are burnished with 24K Gold foil, a process called Keum boo. There are painted lightly with patina.
Dimensions: 1/2 inch across. Sterling silver ear wires can be switched to comfortable sterling silver clip ons at an additional cost.