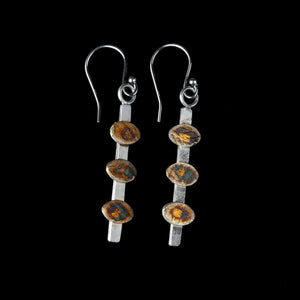 These petite ovals were punched out using an oval punch I have. The silver clay was textured before punching out the ovals. After firing in the kiln, I soldered them on to a long piece of sterling silver. I burnished the ovals with 24K gold foil and painted them with patina. Happily I got blues and greens with the patina, my favorite outcome. I soldered jump rings to the top of the " Stick ".
These are sweet, elegant, unusual petite earrings which dangle on their ear wires. They will be charming with any outfit.
Dimensions: 1 and half inches X 1/4 inches. Sterling silver ear wires. These can be switched to comfortable sterling silver clip ons for an additional charge.