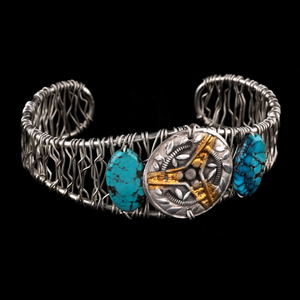 I have a lovely stamp with unusual design and texture. I used that to make an impression in Precious metal silver clay. After refining it I fired it in the kiln for 2 hours. Then it was burnished with 24K Gold on the 3 spokes of the wheel in the design. I painted it with a little patina. I attached it with silver wire to this wire cuff. I added Turquoise beads on either side for a beautiful effect of silver, gold and turquoise. The cuff is not silver but is lovely with it's wire mesh appearance.
This is non denominational in appearance and could be worn by anyone.
Dimensions : Medallion almost 1 inch in diameter. Cuff 6 and 1/2 inches. Since it is open in the back it should fit all wrists.