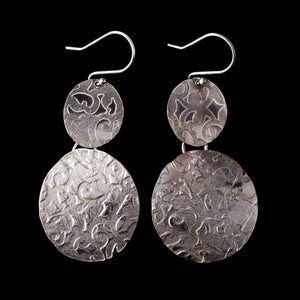 I learned how to make these from a jeweler friend of mine. I cut out circular shapes of sterling silver and passed them through a rolling mill with a design which got impressed on the silver. 
I liked the way they came out and decided not to paint them with patina as I often do. They are lovely and dangly as they are, with a lovely unusual texture.
Dimensions : 2 inches long X 1 inch wide at the lower circle. Sterling silver ear wires. These can be switched to comfortable sterling silver clip ons for and additional charge.