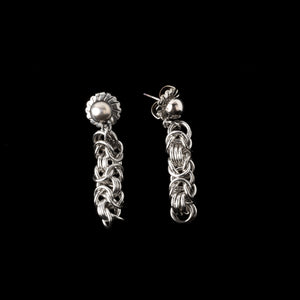 I was taught Byzantine chain making by a jeweler friend of mine. It took me a while to grasp the technique. You interlock silver jump rings in a certain pattern. They are lovely, elegant and fall so well. They have a beautiful dangle to them almost like a Slinky.
They dress up any outfit.
Dimensions : 1 and half inches long X 1/2 inch wide. They are attached to sterling silver studs.
 PLEASE NOTE this specific pair of earrings has gone to a happy buyer. However, I can create a similar one if you would like to place a Custom order.