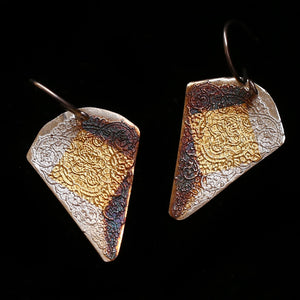 These lacy textured earrings are amongst my favorite patterns. The pattern was pressed into moist silver clay and placed on a form to dry to give it a curve. It was then refined using a flexible sanding pad. After being fired in a kiln for 2 hours the 999 pure silver was burnished with 24K gold foil to fuse silver and gold. This process is called Keum Boo. It was then painted with patina to get lovely blues, greens and purples.
The lacy design reminds of me of the incredible lace and crochet which done all over the world. How people, generally women, created this art with various implements is a wonder. It is an art form which is painstaking. Handmade lace is not seen as commonly as before.
Dimensions : 1 and 3/4 inches long X 1 and 1/4 inch wide. Sterling silver ear wires. These can be switched to comfortable sterling silver clip ons for an additional charge.
PLEASE NOTE : This particular pair of earrings has been purchased by a happy customer. I can create a custom order for you, if you wish to purchase these. Since I make all my jewelry from scratch, the earrings will look slightly different due to the placement of the gold or the patina colors having changed a little.