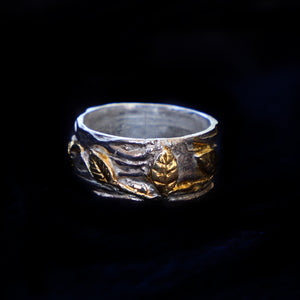 To craft this beautiful ring, I made a wavy background texture and then hand cut the leaves and adhered them to the ring surface. The leaves were set up in a circlet form all around the ring. The clay ring was refined and smoothed, then fired in the kiln. 
After 2 hours in the kiln, the pure 999 silver ring was then burnished with 24k gold foil using an antique gilding process called Keum Boo. This is a tricky process because the ring must be heated to 700 degrees before the gold foil can be burnished into the silver to fuse it. 
After gold burnishing, the ring was delicately painted with patina to give accents of blue, green, and purple.
This is unique and one of kind. I doubt I could duplicate it even if I tried.
Rings can be time-consuming to create but it is always fun when someone falls in love with the ring and wears it all the time.
Dimensions: Ring size 6 and a half
Please note, this ring has been purchased by a happy customer. I can make a custom version for you that would be very similar.