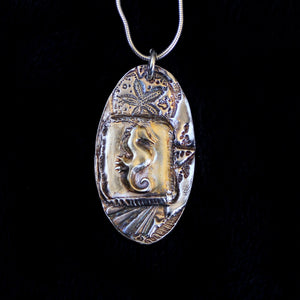 I crafted the background of the pendant with an ocean scene with a sand dollar and seashells.
 I  pressed the seahorse design into the silver metal clay. I cut out the rectangular-shaped frame and placed it on top of the first surface, so that it would give it another dimension, but be the primary focus. 
When the pendant came out of the kiln I had a 999 pure silver piece. I burnished the seahorse with 24k gold using an ancient fusing technique called Keum Boo. I then applied patina accent to get my favorite blues, greens and purples and copper. It was quite magical  how they all came together.
The pendant is lovely particularly for all those who love oceans and sea life. 
Dimensions: 1 and a 1/4 inch long. 3/4 inch wide
Sterling silver snake chain 18 inches