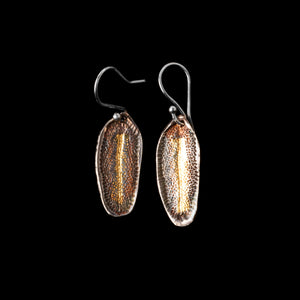 I used small sage leaves from my garden as the impression for these earrings. The same leaf was pressed into moist silver metal clay so that I had an almost identical pair. The texture on sage leaves is beautifully intricate and detailed. A wonder of nature that lends itself so well to silver metal clay.
After firing in the kiln, the earrings were 999 pure silver. I burnished them with 24K gold along the center leaf vein. I painted the outer part with patina to showcase the gold.
These sweet earrings are great for everyday wear or special occasions.
Dimensions: 1 inch xX 1/2 inch. Sterling silver ear wires. These can be switched to comfortable sterling silver clip ons for an additional charge.
PLEASE NOTE: This specific pair of earrings been purchased by a happy customer. However you can request a custom pair to be made. It will not be identical to the first since I make each piece by hand and the application of gold and patina as well as the leaf size may be slightly different.