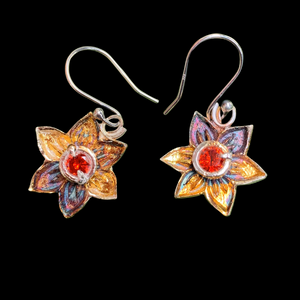 These earrings remind me of my mother's earrings. She was a modest woman and didn't have a lot of jewelry. Her daily pair of earrings was made of pure gold, small rubies and a pink pearl in the middle.
I have a wooden hand carved stamp from India which I used for this pair. I pressed the stamp into moist precious metal silver clay. I cut out the clay in between the petals. I  situated the lab Hessonite garnet in the center. There is a small hole behind the garnet so that light can shine through the stone. After firing the pair I burnished four of the petals with 24K Gold foil, a technique called Keum Boo.I painted patina into the recesses of the other two petals.
They have a mixed metal look of pure 999 silver, gold and patina. They grace any outfit and can be worn as everyday earrings, or for special occasions. They are ideal for people who like petite earrings.
Dimensions : 3/4 inch across. Sterling silver ear wires. These can be replaced with comfortable sterling silver clip ons at an additional cost.
PLEASE NOTE: These earrings have sold but I can create a CUSTOM ORDER pair for you if you wish to order them.