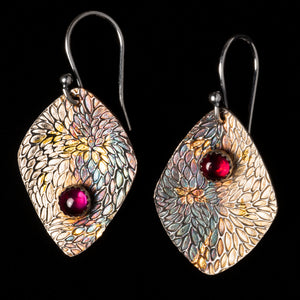 I love the Chrysanthemum petal texture on the background of these earrings. I pressed the pattern into moist silver metal clay, then affixed a serrated pure silver bezel. I cut out my shape and refined it. Once the clay dried it was fired in the kiln for 2 hours. What came out was a pair of handcrafted 999 pure silver earrings. These were burnished with 24k gold foil using an ancient Keum Boo gilding technique and accented with patina. The rubies were tapped into the bezels and the bezels burnished to secure the rubies.
These are lovely, bright and festive to be worn every day or on special occasions.

My creative process involved shaping the earrings and then positioning the bezels in an asymmetric location for interest. 
Dimensions 1 inch x 3/4 inch
Sterling silver ear wires. These can be switched to comfortable sterling silver clip ons for an additional charge.
PLEASE NOTE: These earrings just sold. However I can Custom make a similar pair if you wish.