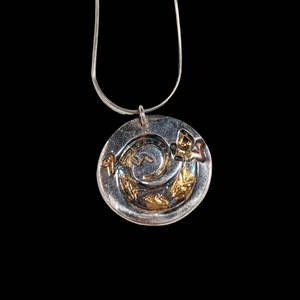 A round handmade Pure 999 silver pendant featuring a coiled gecko. This was created using silver clay. 24k gold foil was burnished and fused onto the silver using a technique called Keum boo. Patina was painted on for accent.
This is a typical Southwest pattern.
In India we had geckos on the wall in my grandmother's house, where we went for summer vacations. I was scared of them as a child when I saw them darting behind the picture frames. Then I learned that they loved eating flies which was very useful, particularly in the summertime, so I became less afraid.
As an adult I grew to enjoy lizards in the garden when I was out weeding or planting.

The gold and silver combination makes it a great way to dress up a simple outfit. If you love lizards, geckos, salamanders, and Southwestern style jewelry, it is an elegant accent piece.

It is one of a kind so even if you ask for a similar piece, expect that it will be somewhat different.

Dimensions: 1 inch in diameter. Sterling silver snake chain.