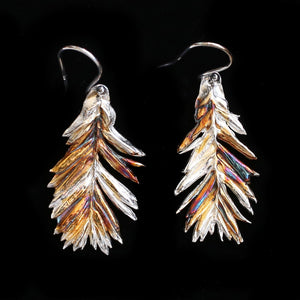 These earrings started out as a custom order but I liked them so much I made this second pair for the shop. I first washed the redwood leaf I chose with soap and water. After drying I oiled it a bit and pressed into mold making material. After taking it out of the mold I flipped the leaf and pressed into fresh mold making material for the second of the pair. When you flip the leaf it gives it a different look because each side of the leaf is unique. I then pressed Silver clay into each mold. I had to cut the moist clay carefully so as not to tear it. When the clay dried it was smoothed with a flexible sanding pad.
After kiln firing for 2 hours, I burnished the pure silver leaves with 24K Gold foil. This process is called Keum boo. I then painted parts of the leaves with patina to get the rich copper and blue green colors.
These earrings are very flattering with their Redwood forest appeal.
Dimensions: 1 and 1/2 x 3/4 inch. Sterling silver ear wires. These can be switched to comfortable sterling silver Clip-ons for an additional charge.