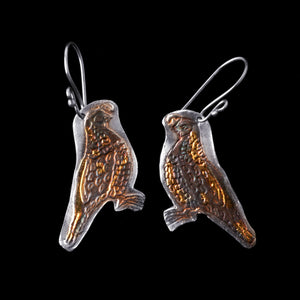 Pure silver quail earrings burnished with 24k gold foil accented with patina.
I hand drew the quails on Scratch foam then used the hand-drawn image to make the impression into moist Precious metal clay. The design has a fine texture. The outline was cut around the birds.
 I love quail, they look so sweet when the chicks are hatched and they are running in a line after the parents. When I was pregnant I would see them out and about, which made me want to make them into jewelry years later. 
When the quail earrings came out of the kiln I burnished them with 24K gold and painted them with patina. The patina accents are lovely blues and copper sheens.
Dimensions: 1 and 1/2 inch X 3/4 inch. Sterling silver ear wires. These can be switched to comfortable sterling silver clip ons for an additional charge.
PLEASE NOTE: This particular pair of earrings has been purchased by a happy customer. However I can recreate another pair as a Custom Order. It will not look exactly the same since I make everything from scratch. For instance the gold and patina may be differently placed.