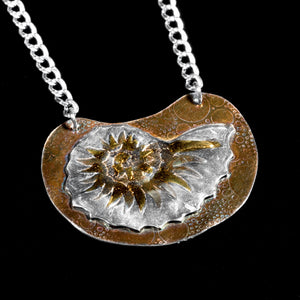 This is a custom made Pendant of a Nautilus shell on a bed of bubbles.
The 999 pure silver is burnished with 24K Gold and accented with patina which made it quite colorful. The burnishing with 24K Gold was a delicate task.
This was a commissioned piece for someone who had seen my work and wanted the focal point to be a Nautilus shell. We talked back and forth as to how she would like it set up and decided that putting it on a back plate texture of bubbles and have a strong but simple chain would show it off very well.

Dimensions About 2 and 1/4 inches X 1 and 3/4 inches.
Sterling silver special chain 
PLEASE NOTE This was sold to the person who commissioned it. However I can create a similar one if you like to place a custom order.