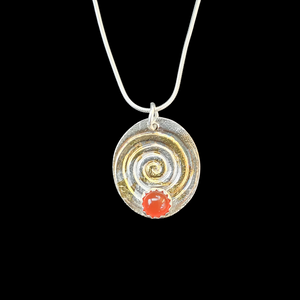 This is an Egyptian circle motif pendant made using Precious metal silver clay. The texture was pressed into the clay. The shape was cut out using a stencil. A pure 999 silver bezel was affixed to the dried back surface using syringe silver clay. Once dried and refined with flexible sanding pads the piece was fired in the kiln for 2 hours.
What emerged was pure 999 silver. This was burnished with 24K gold foil, and accented with patina.
The circle motif is ancient and sacred in most cultures.
The stone is Carnelian in a 999 silver scalloped bezel.
The chain is sterling silver snake chain.
Dimensions. The pendant is almost 2 inches long and 3/4 inches wide. The chain is almost 20 inches long.
This is a bright happy looking pendant which will brighten up any outfit.