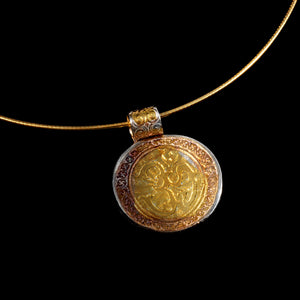 This Om pendant has a different style. It is 999 silver burnished with 24K Gold foil, accented with patina.
The elegant neck wire has a smooth clasp which slides in and out.
The focus on this pendant is the large Om symbol with the handmade baile on top of the symbol and the texture surrounding it.
Om is considered the sound of the Universe and is chanted in prayers, the recitation of the names of various Gods and sacred mantras. Om is the beginning and the end, used in yogic breathing.
Dimensions Diameter 1 inch and 3/4 .
Neck wire sterling silver gold plated with an unusual elegant sliding clasp.
PLEASE NOTE This specific Om pendant has been sold. However, I can create a similar one if you would like to place a Custom order. It may look slightly different since I make all my pieces from scratch. For instance the gold and patina may be in a different location.