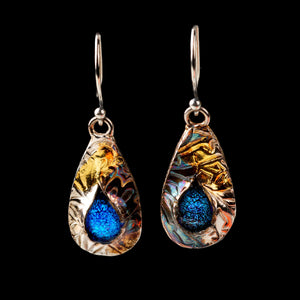 These earrings are made using Precious metal clay. The blue dichroic glass is embraced by two layers of 999 textured silver clay. It is fired in a kiln. It is then burnished with 24K Gold foil and accented with patina.
The earrings look very colorful with the blue glass. The light shines through the little hole cut away in the back plate of the earrings.
I have been asked to make this style of earring with different colors of dichroic glass. They take a while to make because of the two layers but are always fun and elegant.
These can be custom made but will look somewhat different than the original. They can also be made with colored glass cabochons which I have also sold recently.
Dimensions 1 and 1/2 inches from the top of the ear wire X 1/2 inch
Sterling silver ear wires. These can be replaced with comfortable sterling silver clip ons for an additional charge.
PLEASE NOTE this specific pair of earrings has gone to a happy buyer. However, I can create a similar one if you would like to place a Custom order. It might look a little different since I start from scratch with each piece. For instance, the gold and patina may be in a different location. The glass may be slightly different, but you can specify color.