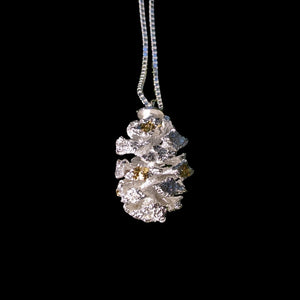 This particular necklace was inspired by a friend of mine. She picks up redwood cones on her hikes and wondered if I could make a pendant or pair of earrings using the cones as a template.
I wanted to get them cast so that they would retain their lovely shape. I was able to purchase some redwood cones cast in sterling silver. I had to saw away the sprue button, flatten the surface, solder a disc and a jump ring for the chain to make the pendant ready.
I then used a technique called depletion gilding to bring the pure silver up to the surface of the piece. I was able to burnish 24K Gold foil onto the surface. This technique is called Keum Boo. I did not paint on any patina because I wanted to maintain the shine of both the silver and gold. The silver has a frosty look to it.
Since the casting process uses a lot of silver these are relatively heavy.
The pendant is simple but stunning, quite a statement piece.
Dimensions : 1 and 1/2 inches X 3/4 inches. Sterling silver box chain 18 inches.
PLEASE NOTE: This has sold. I will be getting some more soon. If you wish to CUSTOM ORDER please let me know. Thanks