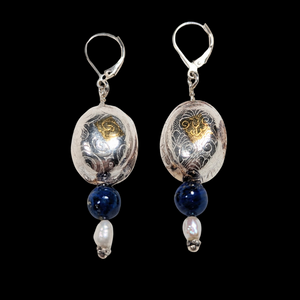 These Pure Silver Bead earrings with a textured swirl design were burnished with 24k Gold foil, a technique called Keum Boo. They were then accented with patina. Stunning lapis bead and river pearl dangles were added on as the final step.

A friend of mine calls this style of bead a pillow bead. It is textured on both sides, one side is flat and the other side is rounded and curved.
Making hollow beads is rather time consuming. You have to make the two halves of each bead separately then join them at the seam and smooth it repeatedly so that when fired in the kiln the bead looks seamless. I love the final appearance and enjoy how festive they look.

Dimensions: 2 and 1/4 inch X a little more than 1/2 inch.
Sterling silver lever backs. They can be changed to comfortable sterling silver clip ons at an additional charge.