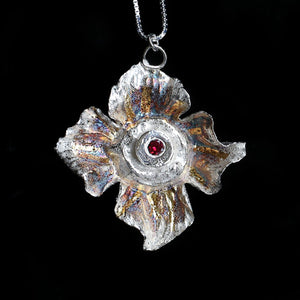 Persimmon Calyx can be found under the Persimmon tree. Fortunately for me, my friend has a tree and gives me fruit every year which is delicious. I crawled under her tree to gather the calyx. I selected one I liked and cleaned it to remove mud and dust. I then painted it with silver paste the consistency of cream. There were 10 coats with complete drying between each coat.
I set a lab ruby in a patty of silver clay which was dried and refined. The silver shrunk around the ruby embedding it into the dried clay. I attached this to the center of the dried calyx. Using a sharp knife I made a small hole in the center of the calyx so that light could pass through. This allowed light to shine through the stone as well.
The piece was fired in the kiln. The organic calyx burned away and a pure 999 silver piece emerged with the stone already set in. I burnished portions of the calyx with 24K Gold foil. Silver and gold fused together, a process called Keum Boo. I painted the tips of the 4 calyx leaves with patina till I got the shimmery blue and purple shades.
I soldered a jump ring at the top of the pendant.
Dimensions : 2 inches X 2 inches. Sterling silver 18 inch box chain.