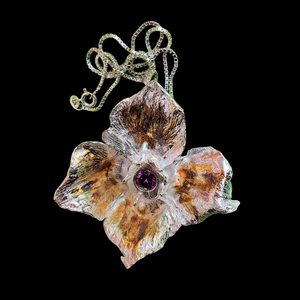 This particular Persimmon Calyx pendant was made differently than my previous ones. The first few I made were by painting the washed and dried calyx with silver clay paste over and over again 10 times, letting it dry in between. The center stone was either embedded onto the calyx or a bezel was embedded and the stone added after the whole piece was fired in the kiln. The calyx itself burned off leaving the pure silver piece.   
In this particular pendant, I first cut the calyx apart, used the pieces as templates by pressing silver clay on them, then joining them together using fresh silver clay. This took longer than I had expected and took more silver than I had expected. I also embedded pure silver wire into the clay to give the appearance of stamens of a flower.
The stone was embedded in the clay and it went into the kiln. The organic material burned off and the pure silver piece was burnished with 24k gold foil. I learned a lot by doing it differently.
This pendant has sold, but I can make a custom piece for you. It will be different as the persimmon calyx will be unique and everything I make is crafted by hand.