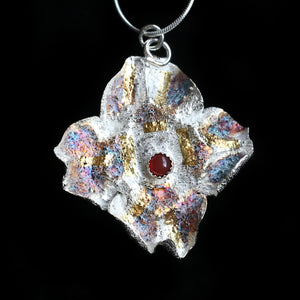 Persimmon Calyx can be found under the Persimmon tree. Fortunately for me, my friend has a tree and gives me fruit every year which is delicious. I crawled under her tree to gather the calyx. I have a number of them stored away in a box.
For this calyx I selected one off a fruit I was eating, cleaned it  and then dried it. I  painted it with silver paste the consistency of cream. There were 10 coats with complete drying between each coat.
I set a fine silver bezel in the lower part of the center of the dried and refined clay piece. I rolled out a coil of silver clay, made a jump ring out of it and attached it to the calyx using syringe clay.
The piece was fired in the kiln. The organic calyx burned away and a pure 999 silver calyx emerged with empty bezel. I burnished portions of the calyx with 24K Gold foil. Silver and gold fused together, a process called Keum Boo. I painted the tips of the 4 calyx leaves with patina till I got the shimmery blue and purple shades.
The final step was tapping the Carnelian Cabochon into the fine silver bezel and securing it.
Dimensions : 2 inches by 1 and 1/2 inches. Sterling silver snake chain 16 inches.