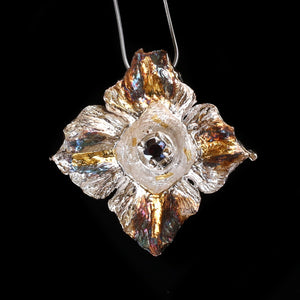 My friend has a bountiful Persimmon tree. I gathered Persimmon Calyx under the tree and selected the intact ones. I cleaned the calyx to remove dust and mud. I painted the calyx 10 times with silver paste. The calyx was dried thoroughly between coats. I inserted a lab amethyst into the center of the calyx securing it with little balls of silver clay. I created a Baile behind the upper leaf.
After firing in the kiln, the organic calyx burned off, leaving me with a 999 Pure silver impression of the calyx, beautiful texture and all. In the center was the amethyst looking very regal. I burnished 24K Gold foil on the 4 calyx leaves which fused with the pure silver, a process called Keum Boo. I painted patina to get the lovely blue and purple colors.
I hadn't realized that Persimmon Calyx are dried and used in Chinese medicine. 
Dimensions : 2 inches X 2 inches. Sterling silver snake chain 16 inches
PLEASE NOTE : This particular piece has just sold. I can make a similar piece as a custom order. It will not be exactly the same since I make all my pieces from scratch.