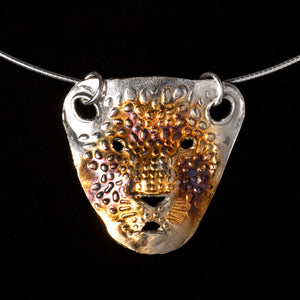 This is a Cheetah pendant handcrafted by me using Precious metal silver clay on a Cheetah faced form. The clay was fired in a kiln for 2 hours which left a pure 999 silver piece which I then burnished with 24K Gold foil and accented with patina. The patina gives it purple and blue colors.
A lovely strong piece for all admirers of big sleek fast cats!
It looks lovely on the gold plated diamond cut neck wire and is a statement piece. 
Dimensions 1 and 1/4 inches long X 1 and 1/4 inches across at the widest upper end.
Neck wire 17 inches
PLEASE NOTE: This specific pendant just sold. However I can create a Custom order if you get in touch with me. It will not look like a " carbon copy " since I will start from scratch to make one. For instance the Gold and patina may be in different locations or different colors.