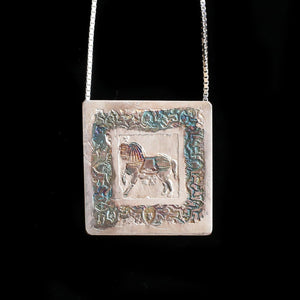 This beautiful little horse has perhaps been decorated for a wedding and is enclosed in an elaborate frame. He is etched onto sterling silver.
Etching is a fun but time consuming process. You start out with sheet silver.  You burnish the design on to the heated metal. The silver sheet is then floated on an acid bath. The exposed metal gets etched with the selected pattern. The metal is neutralized, and the blue paper is scrubbed off with the use of a solvent.
The selected piece is cut away from the sheet, sanded, smoothed and polished.
I soldered two rings behind the horse to insert the chain.
I painted the frame and portions of the horse with patina for contrast and definition.
The horse pendant is lovely with any outfit. I have etched this horse before since earlier pendants have been purchased. They look a little different each time since the patina takes on different hues.
Dimensions; 1 and 1/4 inch square
Sterling silver box chain 18 inches.
PLEASE NOTE : This pendant just sold. However I can create a custom pendant next time I have an etching session. It will look a little different from the original one since I make every piece from scratch, but it will be similar.