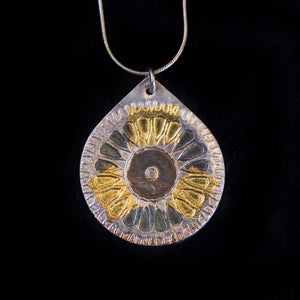 Precious Metal silver clay was pressed onto a lovely Sunflower stamp to get this appearance. A deep impression was made in the clay and the shape was cut out with a sharp tool and dried.
The outer edges were smoothed with flexible sanding pads. After being in the kiln for 2 hours a pure 999 silver medallion was removed. Some of the petals were burnished with 24K Gold foil. The others were painted with patina to get blues and greens to accent the appearance of the Sunflower. The center was also painted with patina.
This is an elegant statement piece that will enhance any outfit and can be worn daily or with evening wear. It is a bright and happy piece just like the faces of Sunflowers.

Dimensions:  Diameter 1 and 1/8 inches. 
The pendant is on a 20-inch sterling silver snake chain.
PLEASE NOTE: This pendant sold recently. I can create a CUSTOM ORDER for you if you wish to purchase it.