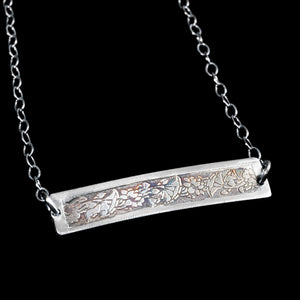 This is a delicate etched sterling silver floral pendant. The pattern for the etch was taken from a book of Indian patterns.
Etching is a fun but time consuming process. You start out with sheet silver. You choose your pattern, in this case from my Indian design book, and print it on special paper. You burnish the design on to the heated metal and then peel off the paper. The silver sheet is then floated on an acid bath. The exposed metal gets etched with the selected pattern. The silver is then placed in a neutralizing bath. The remaining blue pattern is scrubbed off with a solvent.
The pattern is cut away from the surrounding metal, filed, sanded, refined and polished.
Patina is painted on for accent.
The lovely sterling silver chain sets off the elegance and delicacy of the pendant.
Dimensions of the pendant 1 and 1/2 inches X 3/8 inch
Chain 17 inch with clasp.
PLEASE NOTE: This pendant just SOLD.