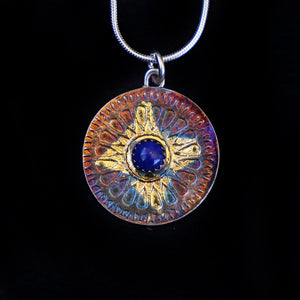 This is one of my favorite texture patterns. I do have a lot of favorites. I pressed this into Precious Metal silver clay and cut out the circle using a stencil. After refining the edges of the dried clay piece so that they were smooth I kiln fired it. Before firing it I had affixed a pure silver bezel in the center.
999 pure silver came out of the kiln. I soldered a silver ring on top so that I could add a jump ring to hang the pendant . I burnished it with 4 pieces of 24K Gold foil in an almost cross like pattern. I painted on patina and got some beautiful purple, blue, green, and copper colors which are iridescent and stunning.
The final piece of accent was tapping in the lapis cabochon into the center bezel. The lapis shows off the colors of the patina beautifully.
This pendant is a statement piece and will show off any outfit.
Dimensions: Diameter 7/8 th inch
Sterling silver snake chain 17 inches