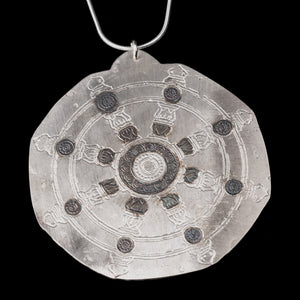 This pattern comes from my Indian pattern book and is based on the Dharmachakra which is of great symbolic meaning for Hindus, Buddhists and Jains. Chakra basically means wheel. Dharma is law and way of Right thinking and Right living. It refers to the wheel of life. The Ashoka Chakra which is also Buddhist is central in the Indian flag.  
Etching is a fun but time consuming process. You start out with sheet silver. You choose your pattern, in this case from my Indian design book, and print it on special paper. You burnish the design on to the heated metal and then peel off the paper. The silver sheet is then floated on an acid bath. The exposed metal gets etched with the selected pattern. The metal is then floated in a neutralizing bath. The blue paper is scrubbed off using a solvent.
I cut the pattern out of the sheet silver using a jeweler's saw. It was filed, sanded and smoothed. After polishing I painted it with Patina to accent parts of the wheel with the blue and copper colors the patina imparts.
A very meaningful symbolic pendant.
Dimensions : Diameter 2 and 1/4 inches. Sterling silver snake chain 20 inches.
PLEASE NOTE : This pendant just sold. It can be created again as a special custom order.