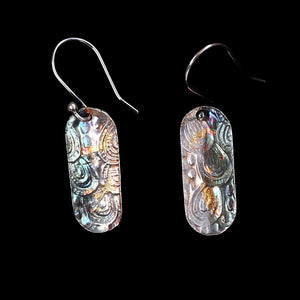 Pure silver earrings with a peacock feather textured pattern. I pressed the pattern into silver metal clay and cut out the shape which is a cross between a rectangle and an ellipse. . After drying I put the earrings into the kiln.
999 pure silver earrings came out of the kiln. I burnished 24k gold foil onto them and then painted on patina to get my favorite blue and green colors which go very well with the peacock feather theme.
These earrings dangle and glitter with a multi-metal and patina effect. They are lovely to wear for any occasion.
Dimensions: 1 inch x 1/2 inch
Sterling silver ear wires. These can be switched to comfortable sterling silver clip ons for an additional charge.
PLEASE NOTE: These earrings have been purchased by a happy customer. However I can create another pair as a Custom order. They will be slightly different from the original since I make all my jewelry by hand. For instance the placement of the Gold foil and patina may be slightly different.