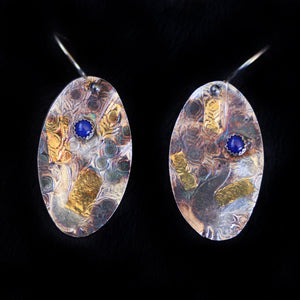 Peacocks are stunning when they unfurl their tails to form a fan shape and even when the tail is trailing behind. The peacock is the national bird of India.
I pressed the peacock design into silver metal clay. Then I positioned a bezel on the surface of each earring with the plan of inserting a lapis cabochon stone once the earrings were fired in the kiln.
The peacocks came out of the kiln pure 999 silver. I burnished portions of the birds with 24K gold foil and then painted patina on for accent. I tapped in the lapis cabochon. I love the royal blue of lapis which goes with the regal bird.
These are stylish, hand-made by me, one-of-a-kind earrings. They are a statement piece, wearable art.

Dimensions: 1 and 3/8th inch by 3/4 inch
Sterling silver ear wires. These can be switched to comfortable sterling silver clip ons for an additional charge.
PLEASE NOTE: These earrings just sold. I can create a similar pair of earrings as a custom order. They will not be identical since I create everything from scratch.